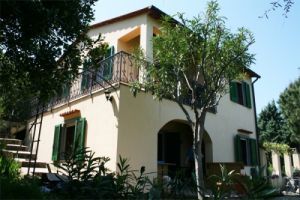 Elba Travel

A travel to Elba gives the traveller the acquaintance of one of the most most beautiful islands of the mediterranean sea. Situated between Corsica and the italian coast, it is part of the so called Tuscan Archipelago. Elba has 30,000 inhabitants altogether, not to mention the number of people, that travel to Elba in the summer.
Elba is situated in the mediterranean sea between Corsica and Italy, where it belongs to. All times of the year are good to travel to Elba, as it's climate is mostly mediterranean, of course, which means that winter and summer temperatures are moderate, not too hot and not too cold. Minimum temperatures are about 8° Celsius and the maximum is around 27° Celsius, with the exception of Mount Capanne, Elba's highest mountain, where it can become quite colder. On the mountain, mouflons and wild boars can be observed. The vegetation is mediterranean with large olive groves, vineyards, chestnut woods and maquis.
Due to the nature of the island, a travel to Elba does not only allow all kind of water sport such as diving, sailing, wind surfing, going by motor boat, kayak and paddle boat, also swimming and water ski, but due to it's partly mountainous structure also climbing and hiking or trekking. A travel to Elba also allows the use of the new Golf Course with nine holes between Portoferraio and Porto Azzurro and a Hotel Golf Course with 6 holes. Some hotels also own tennis courts.
For comfortable stay on a travel to Elba, there are several hotels in the villages that are mostly situated on the coast, but if the traveller wants a slightly more private atmosphere, there are also a lot of really lovely vacation homes, mostly in an open mediterranean style with terrace. Also, there are several camping places to travel to, mostly in the middle and east of Elba.
Historically Elba was initially inhabitated by Ligurians. Later the Etruscans did mine ore from the mountains of Elba and the island was then named Aethalia, meaning smoky place due to the smoke of the smelting of the iron ore. In the fifth century before christ it was owned by Syracus and after that by the romans, who established a naval base. In the seventh century it was owned by the Lombards.
In the middle age it belonged to the territory of Pisa, from 1290 to Genoa and to the dukes of Piombino from 1399. It was given to Cosimo I. of Medici, who was then the ruler of Florence in 1548. A part of the island belonged to Spain from 1596 to 1709 and was thereafter under neapolitanian rule. Beeing disputed over by France, Spain and Italy, it was inherited by the house of Lorraine in 1737.
In 1802 Elba was formed as a part of France, was shortly occupied by Great Britain and when Napoleon I. went to exile after the his rule of France ended in 1815, it was given to him as his sovereign dominion, while he kept all of his titles. After he returned to France and shortly after this his reign over France ended again, it was given back to Tuscany and later unified with the Kingdom of Italy in 1860, which became the Republic of Italy in 1946.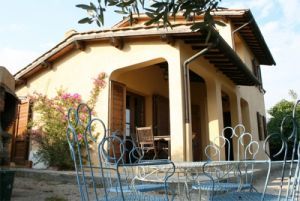 On a travel to Elba the residence of Napoleon I., the Villa San Martin in Portoferraio still exists and one can travel to it today to visit it. It harbours a museum and a collection of engravings.
After the last iron ore mine was closed in 1982 travel and tourism is the largest part of the economy of Elba and the Parco Nazionale Arcipelago Toscana, the national park, was established in 1998 to ensure a harmonic living together of travel, tourism and nature.
To travel to Elba there are several possibilities. Ferry travel routes connect the island between Piombino in Italy and Elba's main city Portoferraio, and also to Cavo, Rio Marino and Porto Azzurro. From the Marina di Campo Airport flight travel routes to Friedrichshafen and to Munich in Germany and to Zürich in the Swiss exist as well as to the destinations of Milan, Pisa and Florence in Italy.
On the island itself several bus lines are used to travel between the places on the island.

Ferienhaus Italien Ferienhaus auf den Azoren